Posts for: December, 2017
By Pender Dental Care
December 19, 2017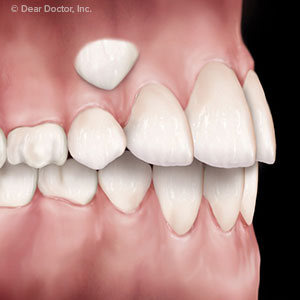 What makes an attractive smile? Of course, shiny, straight and defect-free teeth are a big factor. But there's another equally important element: all your teeth have come in.
Sometimes, though, they don't: one or more teeth may remain up in the gums, a condition known as impaction. And if they're in the front like the upper canines (the pointed teeth on either side of the front four incisors) your smile's natural balance and symmetry can suffer.
Impaction usually happens due to lack of space on a small jaw. Previously erupted teeth crowd into the space of teeth yet to come in, preventing them from doing so. As a result the latter remain hidden within the gums.
While impaction can interfere with the smile appearance, it can cause health problems too. Impacted teeth are at higher risk for abscesses (localized areas of infection) and can damage the roots of other teeth they may be pressing against. That's why it's desirable for both form and function to treat them.
We begin first with an orthodontic examination to fully assess the situation. At some point we'll want to pinpoint the impacted teeth's precise location and position. While x-rays are useful for locating impacted teeth, many specialists use cone beam CT (CBCT) technology that produces highly detailed three-dimensional images viewable from different vantage points.
If the tooth is in too extreme a position, it might be best to remove it and later replace it with a dental impact or similar restoration once we've completed other necessary orthodontic treatment. But if the tooth is in a reasonable position, we might be able to "move" the tooth into its proper place in the jaw in coordination with these other tooth-movement efforts to make room for it.
To begin this process, an oral surgeon or periodontist surgically exposes the tooth crown (the normally visible portion) through the gums. They then bond a small bracket to the crown and attach a small gold chain. An orthodontist will attach the other end to orthodontic hardware that will exert downward pressure on the tooth to gradually bring it into normal position.
Dealing with impacted teeth of this nature is often part of a comprehensive effort to correct the bite. If we're successful, it could permanently transform both the smile and overall dental health.
If you would like more information on treating impacted teeth, please contact us or schedule an appointment for a consultation. You can also learn more about this topic by reading the Dear Doctor magazine article "Exposing Impacted Canines."
By Pender Dental Care
December 04, 2017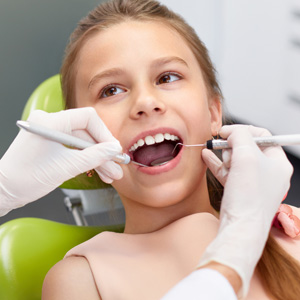 Soon after the primary (baby) teeth begin to give way, the teeth a child will have the rest of their lives start erupting into the mouth. But while they're permanent, they're not as strong and developed as they will be in adulthood.
That's why we treat young permanent teeth differently from older adult teeth. For example, a decayed adult tooth may need a root canal treatment; but this standard treatment would often be the wrong choice for a child's tooth.
The reason why involves the pulp, the innermost layer of a tooth, which plays a critical role in early development. Young permanent teeth continue to grow in sync with the jaws and facial structure. Most of this growth is in the dentin, the layer between the enamel and pulp, which increases proportionally to the other layers as the tooth matures. The pulp generates this new dentin.
A root canal treatment completely removes the diseased tissue of the pulp. This isn't a major issue for a mature tooth because it no longer needs to generate more dentin. But it can have long-term consequences for an immature tooth whose growth may become stunted and the roots not fully formed. The tooth may thus become brittle and darkened, and might eventually require removal.
Because of these potential consequences, a root canal treatment is a last resort for a young permanent tooth. But there are modified alternatives, depending on the degree of pulp exposure or infection. For example, if the pulp is intact, we may be able to remove as much soft decayed dentin as we can, place an antibacterial agent and then fill the tooth to seal it without disturbing the pulp. If the pulp is partially affected, we can remove that part and place substances that encourage dentin growth and repair.
Our main goal is to treat a young tooth with as little contact with the pulp as possible, so as not to diminish its capacity to generate new dentin. Avoiding a full root canal treatment if at all possible by using these and other techniques will help ensure the tooth continues to develop to full maturity.
If you would like more information on dental care for children, please contact us or schedule an appointment for a consultation. You can also learn more about this topic by reading the Dear Doctor magazine article "Saving New Permanent Teeth after Injury."